Road trip to the end of the world
Separated on and off from his wife for eight years, he texts with his 12-year-old son daily. He hopes the boy's mother will send the boy for a visit before it's all over. His family doesn't appreciate what he knows, he says. His father is a lapsed Catholic, his mother is Jewish -- he calls Judaism a "dead religion" -- and his brother is either an atheist or agnostic. He isn't sure.
But what he does know is that he feels closer to his fellow travelers than he does his family.
"We can only have intimate relationships with other children of God," he says.
Across from him sits Gallegos, from Utah -- at 75 the team's oldest member. While most all the ambassadors on this trip are single, divorced or separated, he is an exception.
He's left behind a wife of 53 years, a woman he says he was betrothed to at age 4. She shares his beliefs, he says, but wasn't up for hitting the road by RV. He also walked away from his 10 children and their families.
One might think this sort of separation would weigh on a man, but Gallegos says he misses his quality time with God more than his wife. He says he used to study scripture and engage in prayer 10 hours a day. Now Gallegos steals moments each morning with his heavily highlighted and tabbed Bible, and he reads verses to the group when they gather in circles for prayer.
He and the other caravan members say they may be the chosen ones to lead this charge, but they don't fight alone. With announcements made on Family Radio of their impending arrival in new cities, local listeners -- about 30 of them in Jacksonville, dozens of others in Tampa -- get in on the gospel action, too.
Part of that work is answering the challenge they hear most from Christians, who say the Bible teaches them no one can know when Judgment Day is coming.
That may be true, this group says, but as the end approaches the rules have changed. They say secrets God told to Daniel -- as in the Book of Daniel -- have now been unsealed, revealing new truths.
And now that they know what they believe to be true, their job is to warn -- not save -- others.
What a person can do upon hearing the warning remains slightly unclear. They want people to open Bibles and study for themselves. They suggest that everyone "cry for mercy."
But they also believe that before he created the world, God predetermined who will be saved when the Rapture comes. So if you're not part of the elect, the 2% to 3% of the world destined to be saved, what does it matter if you spend the next three months reciting scripture or, instead, kick back with an endless supply of doughnuts?
Their limited ability to help people doesn't dampen the enthusiasm once they hit Tampa in the late afternoon.
Ambassadors scout out the territory and begin making their presence known, as street vendors start staking their claim to areas along the next day's parade route.
Gallegos stands on a corner and holds up a sign announcing the end. A man in a truck spots the warning, leans out his window and screams, "Amen, amen, amen!" Gallegos, thrilled to have found a friend and taker, darts out into the street toward the truck, tract in hand.
Nearby stands Tony DeLLomo, 63. He sports a white sweatsuit with the words "Jesus is King of Kings" emblazoned in red across his chest, as well as a matching sweatband on his head that reads "Jesus saves." He's a fan of Family Radio and other ministries working in partnership to preach the same doomsday message -- organizations that include
eBible Fellowship
,
Latter Rain
,
Bible Ministries International
and
WeCanKnow.com
.
Ambassadors point to the existence of other like-minded groups as evidence that Family Radio is not a cult. Adds Camping, the head of Family Radio: "I don't have anybody under my control. They're volunteers. I'm just a teacher. I'm just showing them where to look in the Bible. The Bible is the authority."
Scholars say predictions of the end have come and gone throughout history, and Camping's latest interpretation is just one to add to a list that will continue to grow.
But DeLLomo doesn't care about what's happened, or not happened, in the past. He's been on the road warning of the end for 13 years, he says, before boasting -- with a smile -- that he'd just been kicked out of a Super Walmart.
Driving RV No. 15 through downtown Tampa as the sun sets and night falls, Liquori explains that security at malls and stores like Walmart -- among the places they like to frequent -- can pose obstacles when spreading the news.
"We try to obey the law of the land as much as possible, but when it comes to getting out the gospel, we must obey God, not man," he says.
They circle the darkening city streets in formation, the reflective lettering on their RVs shining brightly, hoping to inspire "shock and awe," Liquori says.
They want dropped jaws, pointed fingers, whipped-out cameras. But on this night, when most residents are likely home gearing up for Gasparilla, ironing their ruffled shirts and polishing their black boots, the reaction is negligible. The few people the RVs pass seem unfazed by the warning.
"I've learned to keep my expectations low. I don't want this to be an emotional trip," Liquori says, looking ahead to the next day's event. "I expect it's going to be a tough crowd. From what I've heard about Floridians, they can have attitudes and be feisty."
Swilling beer and scripture
The pirates arrive early, as do the warnings.
Arianna Ramrajie, of Ocala, Florida, has one she'd like to share.
On May 21, the sun will "turn red like blood," the Earth will open up, bodies will be strewn about and "some people will die for eternity," she says.
"It scares me a little bit because some people are going to die, and I think I'm one of them," she adds. "I'm trying to do good things, but I'm afraid I'm doing something bad."
Arianna is 7, after all, and being good all the time cannot be easy. Her father stands next to her, nodding his approval.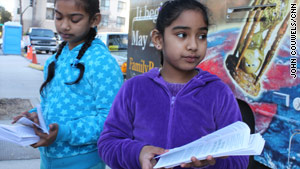 Arianna Ramrajie, 7, right, joins her sister, Breana, 8, in sharing the doomsday message.
She and her family, who've come in to help for the day, wander off to pass out tracts amid people wearing tricorn hats, carrying plastic swords and swilling beer and cocktails.
Some ambassadors look for good corners to claim, as does a man dressed as a chicken who is here to announce his own awesome news: the opening of a nearby restaurant.
"I can't spend that much time with each person. It's all about numbers," he says. "You really have to be assertive in a crowd like this because they're so focused on one thing. Gasparilla -- and drinking."
As he rushes down a sidewalk, a man walking behind him pulls up his eye patch to read the warning on the back of Keitt's shirt and mutters, "Damn, you're depressing me."
Taking his spot, Keitt gets to work, armed with a stack of tracts.
"How about you ma'am? We're giving these out all over the country," he says to one, hand extended. "Will you be the fortunate one?" he asks another. "We're going all over the country with this message," he offers a third.
Plenty take the tracts, though many look at them confused -- or perhaps that puzzled look is just the beer talking. Others whisk by and ignore him. Some cry out that they're banking on the Mayans to give them another year. The ambassadors, of course, pooh-pooh talk of the world ending in 2012. Their RVs advertise their dismissal of that date by featuring the year 2012 circled in red with a slash through it.
One man takes a tract, looks at Keitt and says, "I'll put it on my calendar and come back on May 22 to see if you're still here."
Most of the ambassadors refuse to even think about waking up on May 22. They believe Christ will return on May 21, the Day of Rapture, that they will be saved and taken up to heaven, and that those left behind will face unspeakable suffering until the world ends.
"If I'm here on May 22, it simply means I wasn't one of the elect," Keitt tells us.
Screaming and reaching
A pirate ship rolls up the street, blaring the hip-hop hit, "Party Like a Rockstar," by the Shop Boyz. College students bump and grind, raise their hands in the air and toss back beers. Two young men embrace in a passionate kiss.
On the other side of the parade route, 7-year-old Arianna is dancing, too. She's beside her sister, pressed against the barricade, screaming and reaching for flying beads. She's laughing. She's in the moment. She's being a kid.
Behind her stands her father, his face serious, his arms crossed.
Later, beside a Family Radio RV, Arianna beams and shows off all her beads, the multitude that drape her neck and the tangle of colors that fill her little shoulder bag.
She reaches in, scoops out a handful and giggles as a long strand falls to the ground.
Buried beneath the bounty in her bag lies a reminder of the serious responsibility that awaits her in the coming months: A stack of tracts, announcing the end is near.
This article was found at:
Apocalypticism is a simplistic but dangerous world view spreading rapidly like a toxic virus
California mother slit throats of daughters to protect them from suffering after apocalypse on May 21, 2011
Prominent Christian theologist says killing children okay if God commands it, an atheist responds to the immorality
Child sacrifice and other atrocities ignored by believers who consider the Bible the source of morality
Folie a deux: the insane prophets of the Seventh-day Adventists and The Family International
Gaddafi, The Family International and the Antichrist
Failed prophecies and predictions don't deter Christian fundamentalists from spreading doomsday message
Texas cult convict murdered, served time for beating death of girl and sex abuse of boy
Canadian apocalyptic cult leader who maimed and murdered followers in religious rituals killed in prison
Stairway to Heaven: Treating children in the crosshairs of trauma
'Arming' for Armageddon: Militant Joel's Army Followers Seek Theocracy
Apocalyptic cult leader dies, doomsday predictions never materialized
Confused California cult leader just the latest false prophet to endanger followers with apocalyptic fever
Apocalyptic Arizona cult controls members, competes with Scientology for weirdest sci-fi cult
Russian sex cult leader "from the star Sirius" charged with rape, sexual abuse and human rights violations
Novel Faiths Find Followers Among Russia's Disillusioned
Waiting for Armageddon
Sect members dig tunnel, await apocalypse in Central Russia
Cult leader seeks to free children, official says
Second group of cult followers awaits apocalypse in Penza, Russia
Sects and sex abuse: battle of the apocalyptic sex cults
Cult survivors reveal deranged mind of messianic leader of Australian cult Zion Full Ministry
Self-proclaimed prophets: Phillip Garrido, David Berg and Joseph Smith
The Making of a Twisted Sexual Theology: Q+A on "Jesus Freaks"
Enslaved by the cult of sex...for 25 years
UK survivor confirms mother's fears about abusive cult The Family International that tried to recruit her teen daughter
Fugitive leaders of The Family International found hiding in Mexico after former members sought psychological help
Family International a.k.a. Children of God: Once dismissed as 'sex cult,' tiny church launches image makeover