Star Magazine - October 7, 2010

Sister Wives Bombshell: Wives 2 & 3 Want Out!
TLC's new reality show Sister Wives paints the picture of one big happy polygamist family, but Star has learned that middle wives Janelle and Christine want out of their marriage to hubby Kody Brown.
"Janelle and Christine can smile for the cameras all they want and say how everything is great, but Janelle has cried on my shoulder many times," a family friend tells Star for our Oct. 18 issue. "She told me she and Christine are so sick of how Kody's desire to be a TV star is pulling the family apart, plus all the attention he lavishes on his new, young wife, Robyn, that they've talked about divorce."
However, as we detail in our story, their mysterious religious sect — which broke away from the traditional Mormon church years ago — could make it an absolute nightmare for them to leave the marriage. It's possible Janelle and Christine could be barred from seeing their own children if they left Kody! And in some extreme cases, the repercussions could be even worse!
"They're really distraught over the family situation," adds the pal.
Pick up the new issue of Star, on newsstands now, for more details on the possible dangers that Janelle and Christine could face if they separate from Kody. Plus: See pics of Kody in high school!
This article was found at:
http://www.starmagazine.com/sister_wives/n
ews/17407
****************************************************************************
About Yannis (gossip blog)
Star: Two of the Sister Wives want out, could be barred from seeing their kids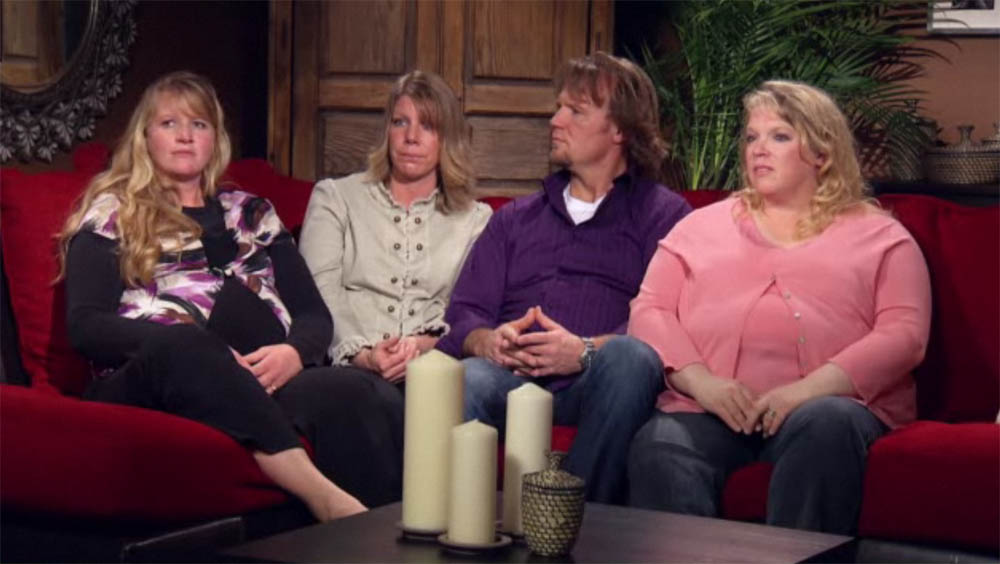 Star Magazine has a story that injects some more controversy into the new face of polygamy, the "Sister Wives" Brown family of Lehi, Utah. Star's source is a former polygamist wife who escaped from the fundamentalist Mormon sect to which the Brown's belong. She is sort-of Kody's former sister-in-law (see the story below, she was a sister wife along with Kody's sister) and tells Star that if any of the four wives want to leave Kody they'll probably be permanently separated from their kids and excommunicated, as is common among followers of their religion/cult. It's a sobering look into what really goes on in typical polygamist families, and shows that the reality for The Brown wives isn't what we're seeing on TV. I think Star just added the stuff about Janelle and Christine wanting out based on what this woman told them, but it could be true. Here's part of Star's story:
What would you do if you had to choose between staying in a bad marriage or losing your children? That's the heartbreaking dilemma behind the scenes of Sister Wives for Janelle and Christine Brown, the second and third wives of Utah polygamist Kody Brown. Sources say the duo have grown increasingly unhappy about their lives with Kody, to the point that they've considered leaving him.

But should that happen, Star has learned, they could automatically lose custody of their combined 12 children to Kody, by order of their mysterious religious sect. And there could be even more frightening consequences.

"Janelle and Christine can smile for the cameras all they want and say how everything is great, but Janelle has cried on my shoulder many times," a family friend tells Star. "She told me she and Christine are so sick of how Kody's desire to be a TV star is pulling the family apart, plus all the attention he lavishes on his new, young wife, Robyn, that they've talked about divorce."

But to do that would mean leaving themselves at the mercy of the mysterious sect Kody, 42, and his wives belong to. Star has learned that the Apolistic United Brethren – also known as the Allred Group – is a sect that broke away from the traditional Mormom church long ago and is headquartered in the town of Bluffdale, Utah less than 10 miles from the Brown family home in the neighboring town of Lehi.

Trying to break away from a marriage within the sect can be a nightmare, says Janae Thorne-Bird – who did just that and founded Utah's Heartstrong Living Center, a safe haven for women escaping polygamy. Incredibly, Janae tells Star that she formerly shared a husband in Montana with Kody's younger sister, Christy, 39 – and she warns Janelle, 41, and Christine, 38, of the possible dangers ahead should they choose to leave Kody.

"I was forced by our sect to give my ex-husband full custody of our 10 children, and they were raised by Christy and his other wives," claims Janae. "I was barred from even seeing my kids, and they were hidden away from me. I reunited with seven of them once they were no longer minors and could choose to walk away, but my three youngest are still trapped in the sect."

[From Star Magazine, print edition, October 18, 2010]
That's heartbreaking and now I understand why there's an investigation into the Brown family. The wives may have entered into this arrangement by choice, but do they also have the choice to get out of it?
This story sheds more light onto how this family makes polygamy seem like a valid choice when it often puts women and children in very difficult, inescapable conditions, even outside the compounds. This isn't a story from someone involved in polygamy in general, it's the story of a woman who shared a husband with Kody's sister and was cut off from her kids for years. Her close connection to the Browns makes this all the more convincing.
TMZ has a blurb about how
Kody sought approval from local church leaders
before doing the show. They essentially told him that they didn't agree, but that it was up to him. His moved forward with the show and now the polygamist families are said to be scared of the repercussions. There have to be some wives who are hopeful that things will change as a result.
This article was found at:
http://aboutyannis.com/star-two-of-the-sister-wives-want-out-could-be-barred-from-seeing-their-kids/
*************************************************************************
Deseret News - Utah October 7, 2010

'Sister Wives' family hires attorney as prosecutors mull charges
Utah County Attorney's Office still thinking about bigamy charges
By Emiley Morgan | Deseret News
PROVO — The Utah County Attorney's Office is now sifting through evidence police have gathered on a polygamous Lehi family — who are the subject of a new TV series ?— and debating whether to file criminal charges.
In the meantime, the family has hired a well-known constitutional law professor and attorney to represent them.
Kody Brown and his four wives are the subject of a TLC program called "Sister Wives." They caught the eye of local police after the show debuted. The day after the first episode aired Sept. 26, Lehi police issued a statement that officers were investigating the family for bigamy, a third-degree felony.
Utah County Attorney Jeffrey Buhman said his office was given the evidence from Lehi police Monday, after the department concluded its investigation. Buhman's office is currently screening the evidence in the case to determine what to do next.
"We're reviewing (the case) now," he said. "We can either not file charges, file charges or seek further investigation."
Buhman noted that while polygamy cases have been prosecuted in the state in the past, this was the first such case he could recall, at least within the last 10 to 15 years, that targeted a "traditional" polygamist family.
"We've done bigamy cases before, but normally, it's people getting married to someone when they're already married, not traditional polygamy," he said. "We haven't done this type of bigamy case."
Attorney Jonathan Turley, who is a nationally recognized scholar on constitutional law, announced the decision to represent the Brown family on his personal blog Wednesday. He said in the blog that his comments on the case "will be limited," however he wrote of his confidence that there would not be criminal charges in the case.
"We are confident that the authorities will find no such criminal conduct in this case, and we intend to cooperate to the fullest in resolving any such questions from the state," he wrote. "I hope that the prosecutors will recognize that this would be bad criminal case making bad criminal law. It is, after all, a television show, and there is no need to move the matter from the television guide to the criminal docket."
He points out that prior prosecution of polygamy cases involved accusations of child abuse and marriages to underage girls.
"Bigamy is a third-degree felony under Utah law — punishable with up to five years in jail," Turley wrote. "The use of this statute to prosecute the Browns would be in my view unconstitutional. It would also end a long-standing policy to confine prosecutions to those who abuse children or commit such crimes as fraud."
"Sister Wives" is currently airing as a seven-part "docuseries" about Brown, his four wives — Meri, Janelle, Christine and Robyn — and their 16 children.
TLC spokeswoman Laurie Goldberg confirmed Thursday that the family hired Turley — not the network. She offered no additional comment on the decision.
This article was found at:
http://www.deseretnews.com/article/700071894/Sister-Wives-family-hires-attorney-as-prosecutors-mull-charges.html
RELATED ARTICLES:
Reality TV polygamists say they are "just regular folks" but they and 40,000 Mormon fundamentalists defy the law
Former Mormon child 'bride' forced to marry at 14 says reality TV show is unrealistic, polygamy breeds child abuse
Mormon polygamous family featured in new TV reality series under police investigation for bigamy after first show air
Elissa Wall on 'What it Was Like to Die'
Jeffs's wedding pictures disgust
Former under-age polygamous bride tells all in book
Stolen Innocence: My Story of Growing Up in a Polygamous Sect, Becoming a Teenage Bride, and Breaking Free of Warren Jeffs
Child 'bride' key witness against Warren Jeffs stunned by court's reversal of rape convictions, fears for safety of FLDS children
Judge will allow anonymous testimony from Mormon polygamists in Canadian constitutional case on polygamy
Mormon polygamists seek immunity from future prosecution before giving evidence in Canadian constitutional case
Canadian constitutional case on polygamy triggered by Mormon fundamentalists, but will also examine Muslim communities
Utah law professor uses Mormon polygamists as example of how religious extremism leads to deliberate child abuse
Polygyny and Canada's Obligations under International Human Rights Law
(pdf)

Research paper submitted to B.C. court in constitutional case documents harms associated with polygamy
Man from Bountiful says girls in Mormon polygamist communities "treated like poison snakes", taught to obey men and have many children
Bountiful evidence that polygamy harms women and children - constitutional case likely to reach Canadian Supreme Court
Review of the positions 12 intervener groups are expected to take in upcoming Canadian constitutional case on polygamy
Some religious practices, such as polygamy, are inherently harmful and should not be tolerated in modern society
Women's adovcates: polygamy is an "oppressive institution" that abuses and enslaves women and children
Prosecuting Polygamy in El Dorado by Marci Hamilton
Senate Judiciary Committee Holds Hearings on Polygamy Crimes: What Needs to Be Done at the Federal Level to Protect Children from Abuse and Neglect
Senate hearing: "Crimes Associated with Polygamy: The Need for a Coordinated State and Federal Response."
Texas Will Attempt to Show That Polygamist Culture Itself Harms Children
FLDS defendants complain their religious freedom violated, while denying religious freedom to their children
Children in Bountiful have religious rights too, but are denied them by parents claiming religious freedom
Some Canadian children are protected from religion-related abuse, while others are not
Polygamy is not freedom
Israeli politicians and women's advocates call for immediate change to polygamy law to protect rights of women and children
New study on polygamy in Malaysia finds evidence of harm to everyone involved
Indonesian Women's Association divided on whether polygamy, which is legal in Indonesia, is harmful to women and children