CNN - July 24, 2009
Evangelist guilty of taking minors across state lines for sex
CNN) -- A jury in Arkansas convicted evangelist Tony Alamo on Friday of 10 federal counts of taking minors across state lines for sex, according to the court in the Western District in Arkansas.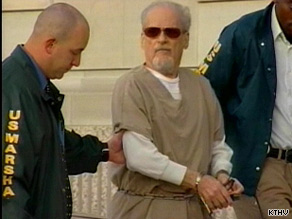 Evangelist Tony Alamo was convicted of all 10 counts against him and will be sentenced later.
Authorities in September charged Alamo, the 74-year-old founder and leader of Tony Alamo Christian Ministries, and raided his 15-acre compound near Texarkana, Arkansas.
Jurors reached the verdict after more than eight hours of deliberations. Each count carries a maximum sentence of 10 years.
Between March 1994 and October 2005, Alamo transported five girls younger than 18 across state lines for sex, according to the indictment.
The criminal complaint included accounts from three of the girls, two of whom were 17 when the complaint was filed last year and one who was 14. All three said Alamo sexually abused them.
Alamo, whose real name is Bernie Hoffman, had denied all wrongdoing. In a phone interview last year with CNN, he called the accusations a hoax.
"They're just trying to make our church look evil ... by saying I'm a pornographer. Saying that I rape little children. ... I love children. I don't abuse them. Never have. Never will."
Asked why authorities were searching the property, Alamo compared himself to Christ.
"Why were they after Jesus," he asked. "It's the same reason. Jesus is living within me."
Alamo also has compounds in Oklahoma and New Jersey.
The Southern Poverty Law Center says Tony Alamo Christian Ministries is anti-Catholic and a cult.

Don't Miss
Read the complaint (pdf
This article was found at:
http://www.cnn.com/2009/CRIME/07/24/arkansas.evangelist.trial/
****************************************************************************
MeeHive - July 24, 2009
Convicted pastor says he's 'one of the prophets'
Tony Alamo, a one-time street preacher who built a multimillion-dollar ministry and became an outfitter of the stars, was convicted Friday of taking girls as young as 9 across state lines for sex. Alamo stood silently as the verdict was read, a contrast to his occasional mutterings during testimony. His five victims sat looking forward in the gallery. One, a woman he "married" at age 8, wiped away a tear.
"I'm just another one of the prophets that went to jail for the Gospel," Alamo called to reporters afterward as he was escorted to a waiting U.S. marshal's vehicle.
Shouts of "Bye, bye, Bernie" _ Alamo was born
Bernie Lazar Hoffman
_ came from a crowd gathered on the Arkansas side of the courthouse. Some came from
Fouke
, the nearby town where Alamo's 15-acre compound sits. Others were former followers of his ministries in Arkansas, California and New York.
The jury of nine men and three women took about 11 hours to consider the charges against Alamo. The 10-count federal indictment accused him of taking his underage "wives" across state lines as early as 1994.
Jury foreman Frank
Oller
of Texarkana, Ark., said jurors deliberated more than a day only to ensure they considered everything. The testimony convinced them the 74-year-old evangelist kept the girls as sexual partners, not office workers as his defense team claimed.
"That was the evidence. That was proven," Oller said. "We came up with a full decision that we are quite satisfied with."
Defense lawyer Don Ervin called the evidence against Alamo "insufficient" and said the preacher would appeal. He also said Alamo's criminal history _ he served four years in prison on tax charges in the 1990s _ "will hurt him" at sentencing in six to eight weeks.
Prosecutors said Alamo could face a total of 175 years in prison over violating the nearly century-old
Mann Act
, a morality law once aimed at stopping women from being sold into prostitution. Each count also carries possible fines of $250,000.
U.S. Assistant Attorney Kyra Jenner said Alamo's conviction would end his cycle of abuse, as he told his followers God instructed him to marry younger and younger girls.
"We believe he will face the rest of his natural life in prison," Jenner said.
The five women, now age 17 to 33, told jurors that Alamo "married" them in private ceremonies while they were minors. Each detailed trips beyond Arkansas' borders for Alamo's sexual gratification.
Alamo never testified. Though he announced to reporters that he wanted to, his lawyers told him he should not directly challenge their testimony. Defense lawyers said the government targeted Alamo because it doesn't like his apocalyptic brand of Christianity.
With little physical evidence, prosecutors relied on the women's stories to paint an emotional portrait of a charismatic religious leader who controlled every aspect of his subjects' lives. No one obtained food, clothing or transportation without him knowing about it.
In the end, prosecutors convinced jurors in Arkansas' conservative Christian climate that Alamo's ministry offered him the opportunity to prey on the young girls of loyal followers who believed him to be a prophet. They described a sect that ran on the fear of drawing the anger of "Papa Tony."
Alamo, who founded the ministry with his wife Susan in the 1960s, remained defiant during the trial. He blurted out a reference tothe Branch Davidian raid at Waco, Texas, muttered expletives during testimony and fell asleep even while alleged victims were testifying.
After Susan Alamo's death in 1982, Alamo began focusing his tracts on bashing Catholicism and the Vatican. His ministry, built on the backs of followers who worked in various businesses to support the church, designed and sold elaborate denim jackets for celebrities.
Federal agents seized a large portion of his assets in the 1990s to settle tax claims after courts declared his operations a business, not a church. Among items offered for auction were the plans for the studded jacket Michael Jackson wore on his "Bad" album.
This article was found at:
http://www.meehive.com/AP/2009-07-24/15-11-07/D99L29LG1@news.ap.org.html